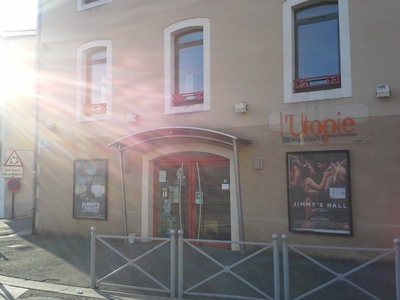 L'Utopie is a movie theater managed by the L'écran livradais association.
We offer generalist programming, mainly Art&Essai in line with our conception of the cultural offer of a local cinema in rural areas. We benefit from the Young Audience, Heritage and Research-Discovery labels which are awarded each year by the CNC.
We make image education a priority by welcoming classes enrolled in school systems, but also outside the system, and young people general public outside school hours.
Heritage is the subject of a bimonthly program with a presentation of the film at each screening. In order to guarantee this programming to our audience, we are members of the various Art&Essai promotion associations at national, regional and departmental level (AFCAE, ACREAMP, CINA, Ecrans 47).
We also give an important place to films labeled Research and Discovery which explore new cinematographic territories and propose new and demanding forms.
It is with the ambition to make our movie theatre a place of meetings, exchanges and debates that we are working with local cultural actors to organize sessions open to discussion on social themes and artistic practices with a film as a starting point.
In addition, every year in November, we organize the DE L'UTOPIE DANS LES TOILES festival which gives pride of place to foreign cinemas in connection with the living area of ​​Sainte Livrade sur Lot, land of cultural mixing.
In 2020 we are participating for the first time in Cinema cent ans de jeunesse.