One of the secrets of the project's effectiveness and to why it makes everyone who takes part in it passionate about film, from the film makers themselves, to the participants and their teachers, is that it takes apart and analyses the process of making films year after year, each time from a different point of view.
The initial training session at the start of the school year brings film makers, teachers and cultural partners together, is a key moment where the new topic for the year is explored, analysed and discussed. When the participants come to the theme themselves with their fresh eyes, even more is discovered about the theme, as they explore the film clips from the project, which show how each director has explored the theme in their own work.
Right from the first exercises they are nearly always inspired by what they've learnt from watching the clips, especially those that touch them. Those participants that have the chance to take part in the project from one year to the next have shown the ability to cross reference the work over the years, taking pleasure in linking the questions from the previous years to those of the present year's theme and work. Year on year everything is fresh and new, which allows a process of constant experimentation and discovery.

Teresa Garcia et Pierre-Marie Goulet
Filmmakers, participants and workshops coordinators
Os Filhos de Lumière, Portugal.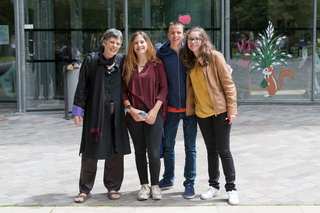 Teresa Garcia and students of Mértola schools (Portugal) during « A nous le cinéma ! » meetings in 2017.