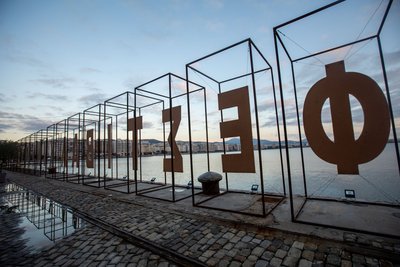 TIFF is the largest cinema institution in Greece that promotes quality films all year round, expanding in three main directions:
Τhe Thessaloniki International Film Festival held each November; one of the oldest and most prominent festivals worldwide and the country's most popular film event.
Τhe Thessaloniki Documentary Festival held every March; it ranks among the 10 best documentary festivals of the international circuit, celebrating annually the art of documentary.
A rich annual activity that features cinema events, tributes and various collaborations throughout the country all year long.
Located at Thessaloniki's main square Aristotelous, the historic Olympion building complex hosts the festival's headquarters, as well as two theatres available to the audience all year round. Also part of TIFF, the Cinema Museum of Thessaloniki is the only film museum in Greece. Situated at the Port of Thessaloniki, two more TIFF's theatres (John Cassavetes and Stavros Tornes) are open to the audience all year long, while during the two 10-day festival editions two additional theatres (Frida Liappa, Tonia Marketaki) also host the festival's screenings.
Each year, 27,000 children and adolescents participate in TIFF's popular educational programs. Throughout the year, the Thessaloniki Cinematheque hosts screenings and tributes. With 15,000 book and magazine titles, the Thessaloniki Film Library is the largest one in the Balkans. Open air film screenings take place in the most beautiful terrace in Thessaloniki, the terrace of the Thessaloniki Concert Hall, as well as in various venues at the city of Thessaloniki. TIFF, also, organizes tributes in collaboration with other film institutions.
TIFF promotes quality film culture all year long, actively supports new filmmakers, Greek and international, as well as filmmaking worldwide. It establishes collaborations with various institutions (embassies, museums, universities, local authorities etc.) based all over the country. It, also, raises social awareness by making both its venues and content accessible to all viewers. TIFF, also, prepares the future generations of filmgoers (through its Youth Screen and Educational Programs).